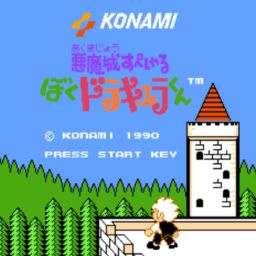 Game: Akumajou Supeshyaru, Boku Dorakyurakun 悪魔城すぺしゃる:ぼくドラキュラくん (Aka Kid Dracula)
Developer: Konami
Publisher: Konami
Release Date: October 19th, 1990 (Famicom), January 3rd, 1993 (Game Boy Version)
Genre: Platformer
System: Famicom / Game Boy
So 20 years ago this month the world was blessed with the fun game that is Akumajou Supeshyaru (special): Boku Dorakyura (dracula) kun. That is a mouthful, so we'll call it by its English release title, Kid Dracula. The game is a kidified version of the popular series, Akumajyou Dracula, or "Castlevania" as the American releases are called. It is important to know that the Game Boy version is NOT a sequel (According to Konami) to the Famicom game as some people are lead to believe. It is simply a Game Boy version of a Famicom game with improvements and tweaks. It can be a little confusing since the narrative of the JPN GB version talks about how Kid Dracula already killed the last boss of the Famicom version, but in the GB version you fight the same enemies in most of the same levels with the same bosses and the same final boss.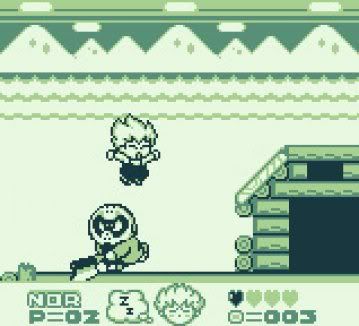 So you are Kid Dracula, perhaps brother of Alucard. You are 10,009 years old. At the beginning of the Famicom version of the game you wake up from a 10,000-year-long sleep. In the GB version, the Grim Reaper comes to you and tells you that Galamoth is causing trouble. And off you go. No back story at all is given in the Famicom version other than Galamoth's face appearing in the night sky in the title screen. I'll talk more about the lack of story later in this review.
Every level has the requisite boss when you reach the end. In the GB version there are two boss fights at the end of each level, in the Famicom version there is only one. In the Famicom version one of the bosses is the Statue of Liberty (the level takes place in New York). Upon reaching her she tells you that she doesn't like fighting but instead asks you to join a quiz game show with other enemies. She asks simply questions like "Which country is the Statue of Liberty located?" and "Where was the Statue of Liberty made?". She even asks "What is the name of Konami's in-house band?" The first two questions are probably a little difficult if you are a Japanese elementary school student, which is the game's target audience. Now of course the questions are asked in Japanese, so this may be the hardest "boss" if you cannot read Japanese. Get three questions right and you "beat" the "boss" and progress to the next level. I thought that was a nice touch to the game and it made it more enjoyable.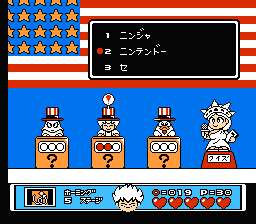 As mentioned, there is a New York stage in the Famicom version where you fight punk rockers and Jason Voorhees clones (Perhaps an ode to Friday the 13th Part VIII, while his appearance in the GB version is in his natural habitat, the wilderness). You travel to random parts of the world (and space) and there really is no explanation as to why you are in these places. In one level you're in Transylvania fighting a KKK family (yeah, it's just a ghost with a manji (卍) on its forehead), the next you're fighting a sphinx in Egypt. In between that you're in the deep sea killing back-stroking Asian men with glasses, then off to Antarctica annihilating hapless little figure skating girls. It's all very random, but very fun. You have no idea why you're in these places, but you just trudge along hoping there is an answer. The GB version does have a bit more structure to it. There is a narrative between the levels and there is a map showing you working your way to the final boss, Galamoth. This gives you a feeling of progression rather than just playing levels that take place in random places.
In these levels there are enemies, and to kill these enemies you need a weapon. We are lucky that Kid Dracula has magical powers to enemies like zombies, androgynous Frankensteins, and witches wearing mini-skirts. You start off with a basic fireball attack. Hold the attack button down for a second and it will become a more powerful fireball. You will know your charge attack is ready by the expression of Kid Dracula's face on the bottom of the screen. After each stage Kid Dracula will "remember" a new spell. After 10,000 years of a sleep, you tend to forget a thing or two, I guess. You will get cool spells like homing shots, ability to turn into a bat to reach high places, a powerful bomb shot, bat-erangs, among others. The Famicom and GB version have most of the same magic powers. There is no limit as to how many times you can use these special powers, but there is a limit to you life (represented as hearts), so don't get too trigger-happy.
Bender?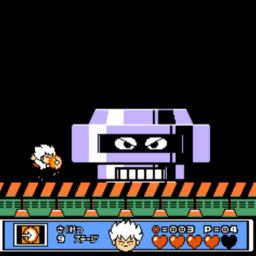 As you go through these levels, you collect coins to play mini-games at the end of each level. You collect coins by killing enemies with your charge attacks. There are some parts of the game where respawning enemies (the back-stokers in the water stage of the Famicom version, the falling barrels in the factory stage of the GB version) come endlessly and since there is no time limit, you can stock up on coins. If you have the patience, you can fill up to 999 coins, which would take a while. In the Famicom version there are 4 mini-games and one is chosen randomly for you to play given you have enough coins to play them. In the GB version, you're given a choice. A fortune-teller has four crystal balls, each lettered A through D. Just keep your eye on the letter you want and as she mixes the balls around just choose whatever letter you want, which will be placed in a different position. This is a better system because I can always play the game I want rather than being forced to play some mini-game that isn't enjoyable. In the Famicom version you win extra lives, but in the GB version you are given a choice. You can gamble to get more coins, your get more lives. Some of these games include pop-up pirate (in this case, pop-up skeleton), catch-a-bat, fukubiki garagara (game where colored balls come out of a round box and your prize is based on the color of the ball), among other games.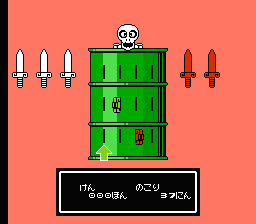 The Verdict, Famicom Version: 7/10
One gripe I have about the Famicom version is there is no narrative. I guess the GB version spoiled that for me. This is where the GB version is superior because from the get-go you know what's going on. The graphics are good with cute character designs, but the levels are a little bland. Since it is a Konami title, you can expect the music to be top-notch, as it is for this game. This is a great platformer which borrows some ideas more from Mega Man than Castlevania. It is definitely worth getting if you're a fan of 8-bit platformers.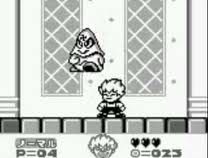 The Verdict, Game Boy Version. 8/10
I loved this game and have played through it a couple of times. Sometimes I just do it for the mini games even though they are repetitive. The mini games are much better in the GB version, and they are more rewarding. Given a choice of which mini-game you can play is also a big plus. The game is a bit short and easy compared to the Famicom version, but perfect for younger players which this game was designed for. This is one of the greatest 3rd party platformers I have played for the GB, and I highly recommend it. It has great graphics, great music, and very precise controls.
Which one should you get? Well, they are both great games, but I am going to have to lean more towards the Game Boy version. Konami revamped the original release so that it flows better, gives an entertaining story, and more control over which mini-game you can play. The Game Boy version is far easier, but more entertaining.
This game has been rereleased twice since the GB version. There are ports of this game available for download on cellphones in Japan.
http://www.konami.jp/mobile/appli/draculakun.html
No pirates or emus, my copies.